Our fresh fruit & veg sticker pack is perfect for letters, journals, photo albums, and more! Inspired by the sweet little stickers found on our fruit and veggies from the greengrocer, we designed these cute Noodoll versions to help you bring some colour and fun to your life. The stickers feature all of your favourite fruit and veggie mini plush friends and include funny and motivational messages to brighten your day - adorable!

We think these fruit stickers are perfect for everyone from tiny tots to great grandpas and we love using them on... everything! Here's our top 10 favourite places to stick them:
Use them in cards. Send cute messages illustrated by the sweet graphic stickers, or use them to seal envelopes in a fun and creative way.
Don't have a Noodoll bottle yet? Why not customise your water bottle to give it a colourful summery feel.
Brighten up overlooked areas of your house. Walls, mirrors, picture frames etc... Give them a colourful Noodoll spin!
Plant pots look super cute with the stickers as decoration - tropical plants and cacti especially.
Decorate your phone case.
Back to school or uni soon? Customise your notebooks to create unique covers.
We love to jazz up our laptops with them too!
Use them to decorate presents or make fun gift tags for birthdays.
Create sweet notes for your friends. The little positive reminders on the stickers ("You are Pear-fect!") are designed with love to bring a smile to your faces.
Use them in your bullet journal! They could be decoration or used as visual aids for notes etc.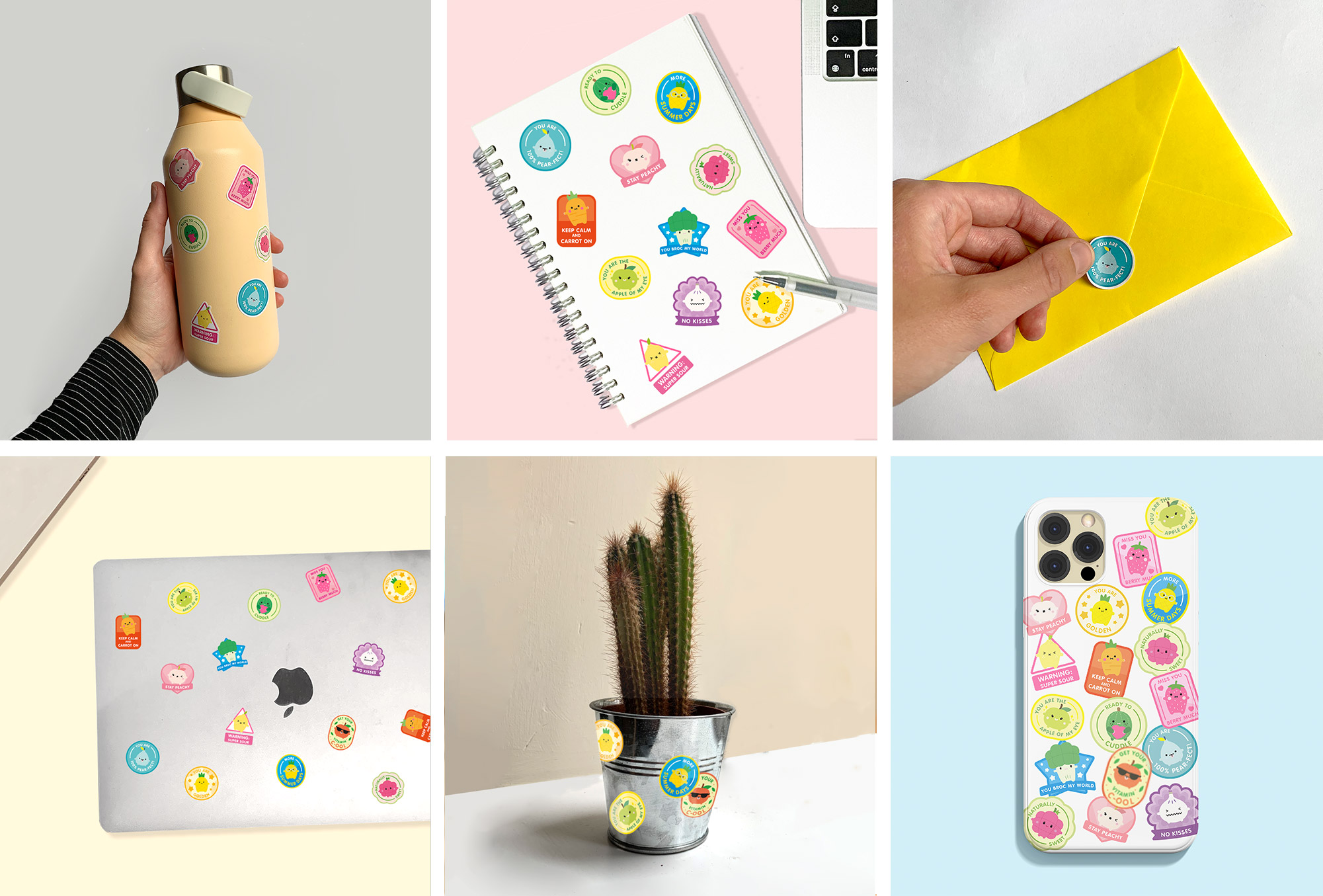 Special bundle offer:
Grab your very own sticker set here on it's own or here as part of our special bundle deal. The bundle contains one sticker set, one reusable grocery / gift bag and one mini plush of your choice for just £18!
We're obsessed with the grocery / gift bags! What better way to present fruit and veggie plushies than in a grocery themed gift bag?! And the best bit? It's totally reusable as a grocery bag too. Take it to the supermarket or the grocers and use it to carry your fruit and veg - the perfect eco alternative to those plastic bags or disposable paper ones.
Perfect for gifts for those you love or for treating yourself too (you deserve it!) - tap here to get yours.