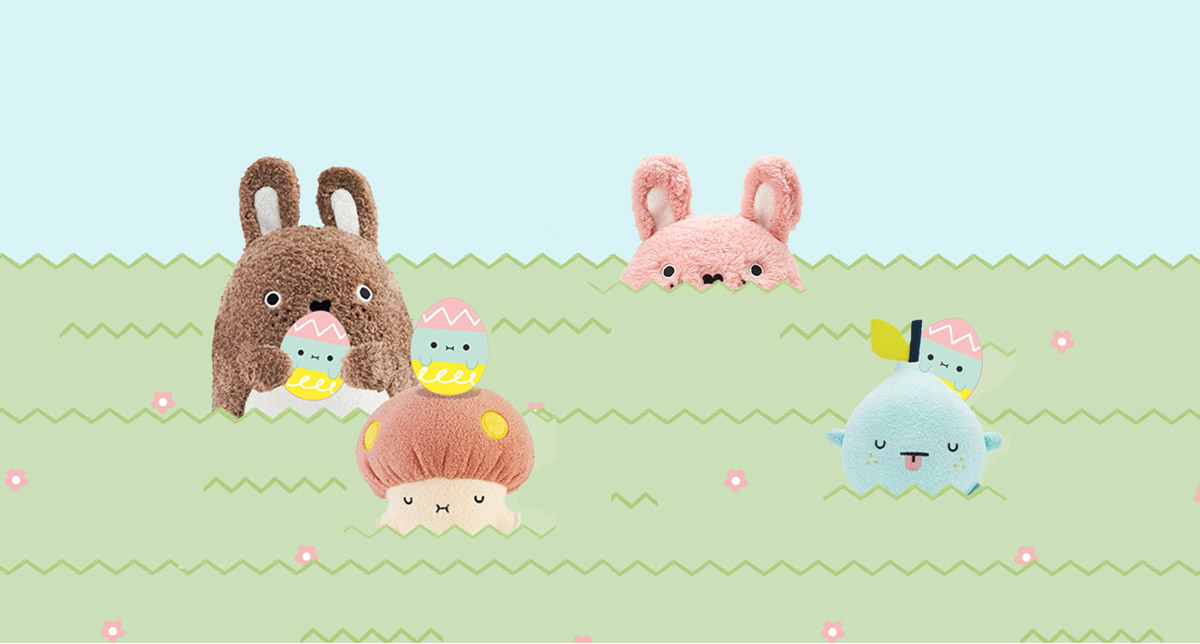 The rules:
The competition runs from 6pm Thursday 14th - midnight Monday 18th.
There are five Easter Eggs hidden around noodoll.com
All you have to do is find them all and tell us where they are.
There's a form at the bottom of this page for you to fill in to submit your answers.
---
The eggs:
There are five Easter Eggs to find. They all look the same, just like this little cutie below:

They could be hiding anywhere (in products, blogs, FAQ pages... Who knows!) so keep your eyes peeled when you're hunting. This egg is not part of hunt, just in case you were wondering!
---
The prizes:
There are three prizes to be won. Everyone gets at least one!
10% discount code for everyone who plays (revealed once you submit your answers via the form)
The first person to find all five eggs will win a one-of-a-kind Easter bunny plushie. Featuring the cutest little hand-embroidered Easter egg.
Everyone who finds all five eggs will be entered into a draw. One random winner will get a £50 voucher for noodoll.com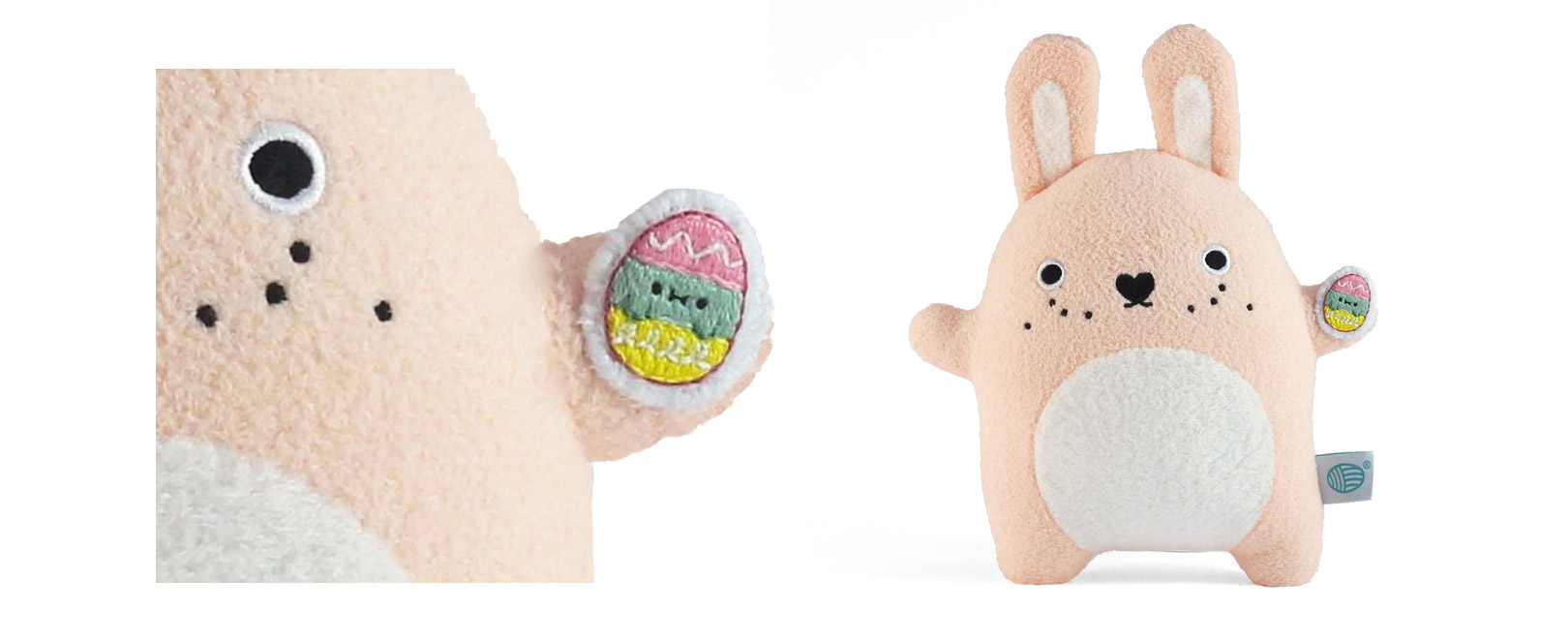 ---
For hints and clues...
...Keep checking our social media. We'll be posting lots of clues, hints and tips (at least one per day) on our Instagram stories.
---
Enter the competition here!
Keep up to date with us on Instagram, Pinterest and Facebook where we'll be posting all the cute and colourful content you could ever want!
---
Noodoll Online Egg Hunt Terms & Conditions

These terms and conditions ("Terms and Conditions") set out the basis on which you can participate in the 'Noodoll Easter Egg Hunt' ("Competition"). By entering the Competition, you accept these Terms and Conditions in full. If you do not accept these Terms and Conditions, you should not enter the Competition and you will not be eligible to win the Prize (as defined herein). Entry is by participating in the "Noodoll Easter Egg Hunt" advertised on our website, Instagram or Facebook and filling in the location of the 5 Noodoll Easter Eggs hidden on our website (www.noodoll.com) on the Google Form attached to the competition link posted between 6.00 p.m. Thursday, 14th April 2022 GMT and 11.59 p.m. Monday, 18th April 2022 GMT only.
COMPETITION PERIOD: The start date for entries is 6.00 p.m. Thursday, 14th April 2022 GMT (UK Time) ("Start Date"). The closing date for entries is 11.59 p.m. Monday, 18th April 2022 GMT (UK Time) ("Closing Date"). Entries received before the Start Date or after the Closing Date will not be entered into the relevant Competition.
TO ENTER: To enter the Competition, you must participate in the "Noodoll Easter Egg Hunt" on our website (www.noodoll.com) and fill in the Google Form attached to the advertised competition link. You may submit multiple entries.
ELIGIBILITY: The competition is open worldwide to participants of any age. If you are under 18 years old, you represent and warrant to us by entering this competition that your parents/guardians have consented to your entry and to these Rules, which they have read. Proof of age and identity may be required. Employees of the Promoter (as defined herein) or members of their immediate families are ineligible to enter the Competition.
PRIZE: First Prize: One (1) Noodoll bunny plush toy with embroidered Easter egg (the "First Prize"). The winner will be the first entry with all the correct answers. There will only be one (1) First Prize winner from all eligible entries for the Competition. The Prize is non-transferable and no cash alternative will be offered. Second Prize: One (1) £50 voucher to spend at noodoll.com (the "Second Prize"). There will be one (1) winner selected at random via an online random name generator to win the Second Prize, from all correct answers entered to the Competition. The Prize is non-transferable and no cash alternative will be offered.
The winners will be contacted using the contact details provided on entry within 72 hours of the Closing Date. If the winner cannot be contacted or does not respond to confirm details for delivery of the Prize within 14 days, an alternative winner will be selected at random from the remaining eligible and correct entries.
PUBLICITY AND PERSONAL DATA: The winners agrees to take part in reasonable publicity relating to the Competition and the Promoter may use the winner's name and image and his/her comments relating to the Competition and/or the Prize for future promotional, marketing and publicity purposes in any media worldwide without notice and without any fee being paid.
OTHER IMPORTANT INFORMATION: All other information collected as part of the competition will be used in conjunction with our Privacy Policy (https://noodoll.com/privacy-cookie-policy). By submitting your entry, we may periodically send promotional emails about new products, special offers or other information which we think you may find interesting using the email address which you have provided.
The Promoter reserves the right to withdraw or amend the Competition or these Terms and Conditions if circumstances outside its reasonable control make this unavoidable.
Entries must be strictly in accordance with these Terms and Conditions. Any entry not in strict accordance with these Terms and Conditions will be deemed to be invalid and the Prize will not be awarded in respect of such entry. The Promoter reserves the right to verify the eligibility of any entrant and to exclude any entries that it believes to be invalid or in breach of these Terms and Conditions.The Promoter's decision is final in all matters relating to the Competition (including the Prize) and no correspondence will be entered into.
GOVERNING LAW AND JURISDICTION: The Competition, and any dispute or claim arising out of or in connection with it, shall be governed by and construed in accordance with English law. You irrevocably agree that the courts of England and Wales shall have exclusive jurisdiction to settle any dispute or claim that arises out of or in connection with the Competition.
SPIRIT OF THE COMPETITION: If you attempt to compromise the integrity or proper operation of the Competition by cheating or committing fraud in any way, the Promoter reserves the right to render your entry invalid, seek damages from you and ban you from participating in any future competitions.
CONTACT: If you have any questions about the Competition, please email hello@noodoll.com.
PROMOTER: The promoter is Noodoll Ltd., 262 Amesbury Avenue, London SW2 3BL. UK (company number: 06406762)